What is a Licensed Guide?
TL;DR Each of our Licensed Guides are more than just an excellent Scrum trainer. They are also amazing coaches, community developers and are all passionate about agile professionalism.
We use the term Guide deliberately, and not just because it fits with the metaphor of the Pathway and delegates reaching the Explorer, Navigator and Adventurer milestones. They are guides because they are NOT just professional trainers.
There is nothing wrong with a professional trainer. Perhaps you have had your eye on becoming a Certified Scrum Trainer at Scrum Alliance, or a Professional Scrum Trainer at Scrum.Org. Becoming a Licensed Guide at Agile Mastery Institute would enable you to deliver the Scrum Mastery Pathway or Product Mastery Pathway (and potentially other Pathways as well)
One of the unique elements of the Pathway approach at Agile Mastery Institute is that we combine the classroom with coaching and community.
Because we believe mastery matters.
More Than Just a Scrum Trainer
So a Licensed Guide is someone who has more than just a Scrum trainer. Sure they have great abilities to run workshops and training classes based on a combination of great practices and personal experience. That is essential. All of our Guides are able to design and run a learning experience for adult professionals that manages to meet different people where they are. 
Our Guides appreciate their students' individual needs and leave everyone in a more competent and confident state than when they arrived at the CLASSROOM.
This is where a lot of good agile training offerings stop; if they even reach this level.
Support Outside The Classroom
As well as this our Guides can also operate without a script or pre-defined learning objectives. They can coach people on what they want to get better at, in many cases without having that skill or experience themselves. We call this COACHING.
And our Guides don't have a passion for being in the spotlight and being the centre of attention. One of our principles is to support the learning cohort in supporting itself over time. So our Guides will not create a dependency upon themselves. They will build up the sense of self-sufficiency and community so that they can step away from the learning process and the habit of continual improvement does not stop. This is the COMMUNITY aspect.
That Sounds Like Me…How do I Become a Licensed Guide?
If you think you have experience in the field, in the classroom and can couple that with a coaching skillset and community drive, then that's great. 
But that's not all we're looking for in our Licensed Guides.
We are trying to disrupt an established and commoditised market so you will need to be a savvy business person. You will need to network, market and talk to people about why this offering is right for them.
And that is, of course, if you believe it is.
Because if you don't have the same passion for growing skills over getting people certified, supporting people's development over just running training courses then not only will you be unconvincing at breaking the paradigm of sheep-dip, two-day classes but you won't enjoy this role either.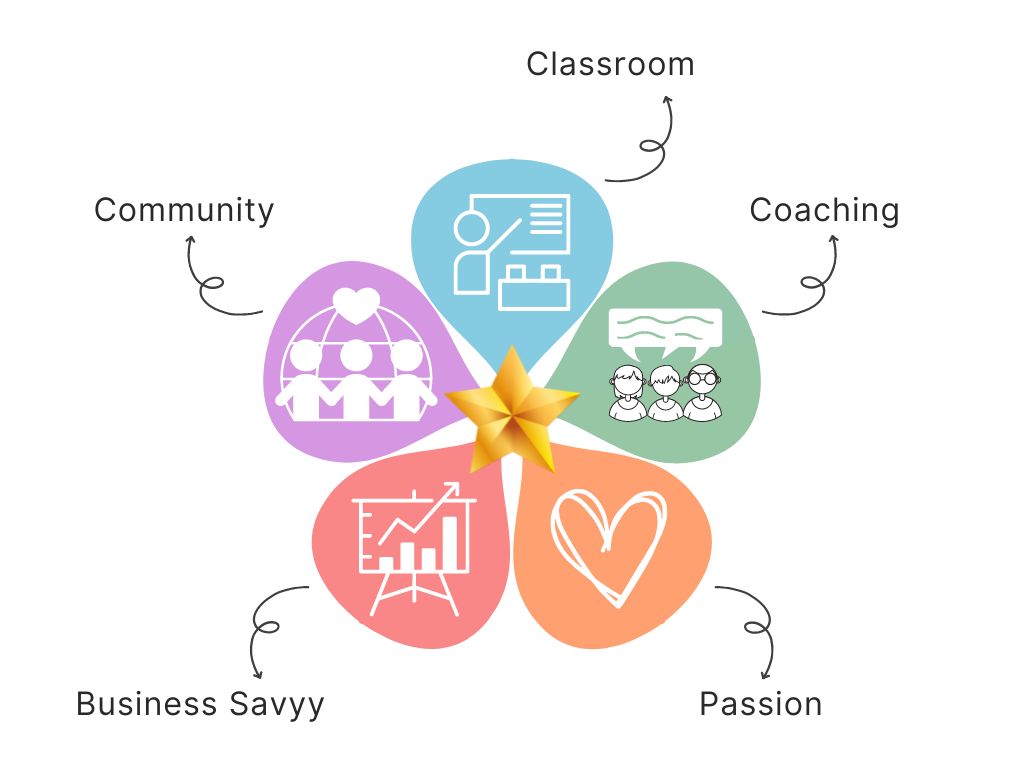 OK – So I'm up for it. What's the Process?
The standard way of becoming a Licensed Guide is to attend one of the cohorts that is being run by one of our existing Guides. Experience it. Evaluate it. Then, provided you have the necessary skills and experience in the elements above, you would attend a Train The Trainer session to learn how to deliver the Pathway program.
If you have any more questions, then get in touch. We love to hear from anyone who wants to join us on our mission to raise the bar of agile professional development.