Perhaps you're thinking about a career change or perhaps you've seen this new role come up in your organisation and you're wondering "Is Scrum Master a good role for me?" It's a question that gets asked a lot because, even though it's been around since 2000, it's still relatively unknown. And, let's be honest, the title isn't something you would brag about at a party!
Even Geoff Watts (who wrote the book on the role) said:
"I don't think I have ever come across a job role that has been so popular yet simultaneously derided; so simple yet misunderstood; so common-sense yet so revolutionary as the Scrum Master."
So in order to answer the question "Is the Scrum Master a good role?", we should probably start by understanding what the role is and also what we mean by 'good role'.  Then you will be able to see if it aligns with your strengths and your aspirations.
What actually is a Scrum Master?
There's a good article The Scrum Master in a Nutshell which goes into more detail on thisbut, in short, a Scrum Master is a facilitator and coach for a Scrum team. They are responsible for ensuring that the team is able to make use of the Scrum framework and helps the team to improve their processes and practices. 
The Scrum Master acts as a servant leader for the team, removing any obstacles that may impede their progress and fostering an environment of collaboration and open communication. Servant Leadership is a term coined by Robert Greenleaf in 1970 and I'd encourage you to read this article of his to learn more about that.
They are not a traditional manager or project manager, but rather a facilitator of the team's work and their primary purpose is to create a high-performing and self-managing team within an agile-friendly organisational culture. 
Is Scrum Master a good role in terms of job satisfaction?
The Scrum Master is a role without authority but is a leadership role and this apparent dichotomy is one many struggle with.  If you like being in control, making decisions and organising the work of others then this role would not be a good role for you.  
In his book Scrum Mastery, Geoff Watts describes the qualities that make a great Scrum Master and I would suggest that if you resonate with these skills and what they mean in practice then you can get huge satisfaction from the role of Scrum Master:
Resourceful in removing impediments to the team's productivity
Enabling, helping others to be effective their way without dependency on you
Tactful, speaking the truth (even to power) diplomatically
Respectful, known for integrity both within the team and wider organisation
Alternative,prepared to promote a counter-culture
Inspiring, generating enthusiasm and energy in others
Nurturing of both individuals and teams
Empathic, sensitive to those around them
Disruptive, able to shift the old status quo and help create a new way of working.
Is Scrum Master a good role in terms of career progression?
There isn't really a clear career ladder for Scrum Masters. Indeed great Scrum Masters end up making themselves redundant from one team so they can go help another. Having said that, developing the skills needed to be a great Scrum Master provides you with the foundation to take your career in a number of different ways.  
Some Scrum Masters may want to focus more deeply on the agile mastery side and may move into coaching roles that go across multiple teams or the organisation as a whole.  For others, the people development side of things might turn out to be their passion and they may move into a leadership role within the organisation or they could want to try something completely different. For others, organisational change might turn out to be their interest area and change agency could be a career.
And of course, anyone with a track record of creating high-performing, self-managing teams that don't need a Scrum Master is going to be very much in demand for a long time!
Is Scrum Master a good role in terms of job prospects?
The Scrum Master role is in high demand and a quick search on any job site will show the level of demand for your area. Investing in your skills and deepening your experience will help make you a much better candidate for roles. According to salary surveys and job posting websites, such as Glassdoor, Indeed, and PayScale, the average salary range is $80,000 to $120,000 per year for a Scrum Master in the United States and £40,000 to £75,000 per year in the UK.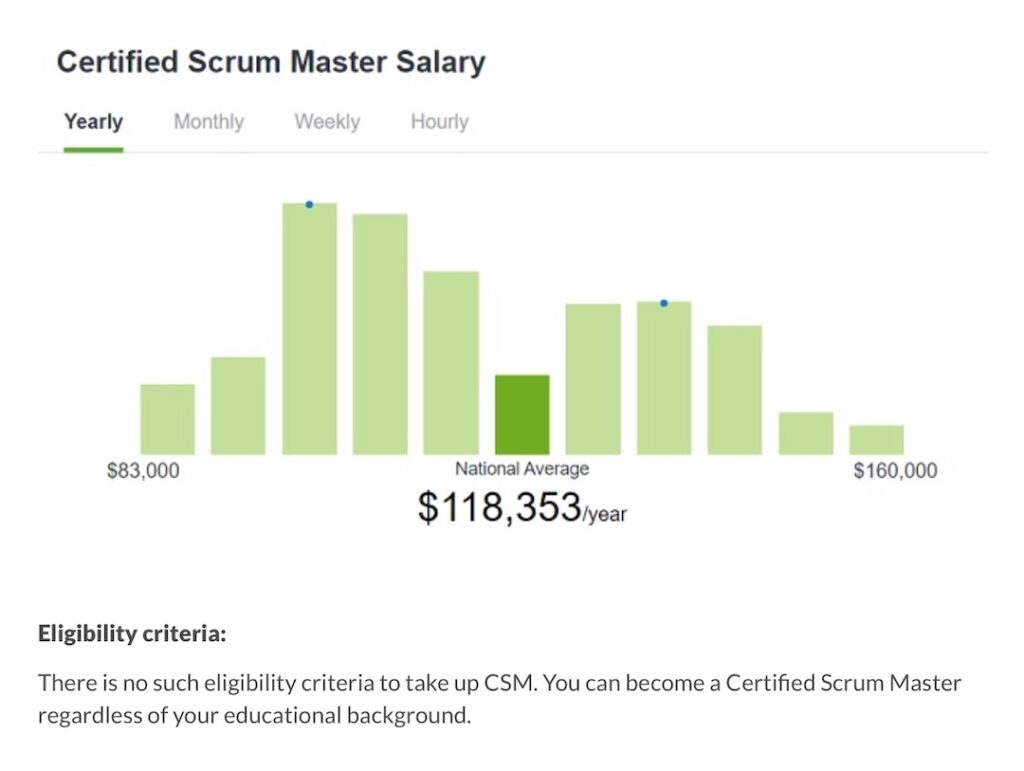 These figures are typically job postings that only require a CSM or PSM certification. Those with more meaningful certifications could expect to earn more.
Conclusion
The Scrum Master role is a very challenging role as making change happen and inspiring cultural evolution takes a lot of time and patience. Doing that while having no formal authority is arguably doubly hard. However, in my experience, seeing people fulfil their potential and surprise themselves by what they are capable of creating as a self-managing team is incredibly rewarding and fulfilling.
Get in touch with us if you'd like to take one of our many robust Scrum Master courses.